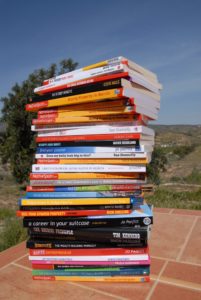 If you've spent hours of your life working on your book, ebook or website copy I can take it apart for you and throw it back together in a different form. Usually it's a better form, with some spelling mistakes corrected  and a few sentences re-constructed.
Sometimes I even offer advice and suggestions, do research and re-write your stuff entirely. You can call it ghostwriting – or whatever you like – at the end of the day the words are yours.
You can pay me for this if you want. If you have a book idea, proposal or finished manuscript that you want me to look at, get in touch, I won't bite.
Here are the Disaster Farm we are slowly setting up a riding arena so we can train our horses. Here are some gratuitously gorgeous horsey photos… And if you want more horsey photos go and have a look at www.BonkersintheNut.com
It gives me great pleasure to write this testimonial for Debs, as she's one of my favourite coaches. She listens well, is kind, generous and extremely witty. Coming from a technology background, and assisting me with my women in cyber security book, proved hugely valuable. Over a 9-month period she helped me plan the structure of the book, checked my writing, and held me accountable for meeting the time-scales I'd set. She also advised on my product ecosystem, and introduced me to suppliers, which I found extremely useful. If you want to write a book or have been struggling to finish one Debs is the person I'd seek out. For these reasons I can thoroughly recommend her.
"It has been a fantastic experience working with Debs on my upcoming book. Definitely recommend her and certainly look forward to working with her again in the future."
Debs works magic. Without being a domain expert, she is a leader in design thinking for any author. She asks the right questions, she sees through you and brings it all together. I enjoyed working with her, even though remotely, as much as I have enjoyed effective coaching. I got my book title/subtitle/ and Table of contents, done in a very short time. More importantly, the process has made my writing (non-fiction) very focused. She loves words, ideas, and the magic world of books. It is contagious. Highly recommended.
I cannot say enough good things about working with Debs. She is a breath of fresh air and has quickly become a trusted partner, a muse for creativity, and a major catalyst in getting my message and brand out into the world.
Among other things, Debs helps me capture my thoughts and ideas in a way that can be clearly and compellingly shared with others. She helps me organize my IP while connecting the dots from one piece of content to the next. She helps me write more and effectively repurpose my material in order to reach a broader audience with a continuous flow of ideas and advice my followers and clients can use right away. She saves me time and energy, keeps me on track, and puts a smile on my face every time we speak.
Oh, and by the way, with Debs helping me get my brand and content out there so consistently, my business is thriving, with new clients and prospects coming to me rather than vice versa.  If you are thinking of working with Debs, do it. Don't delay.