Got Stuck Worrying What Other People Will Think of My Writing…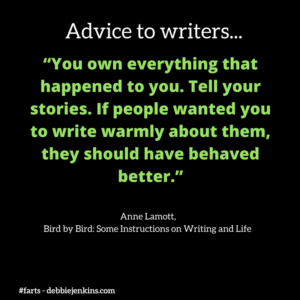 … and then I heard Anne Lamott in her TED talk – "12 truths I learned from life and writing" – and I stopped worrying.
"You own everything that happened to you. Tell your stories. If people wanted you to write warmly about them, they should have behaved better." – Anne Lamott, Bird by Bird: Some Instructions on Writing and Life
Watch it, it's worth 15 minutes of your day.