In a fantastic TED talk, Dan Gilbert says: "The question, as a psychologist, that fascinates me is, why do we make decisions that our future selves so often regret?"
Let me ask you some questions:
Have you always wanted to write a book? Is it on one of your many to do lists?
Each year do you lament the passing of time, and the absence of a book with your name on the cover?
Do you have valuable, expert knowledge that you really want to share?
Do you want to start a blog or a regular writing habit, but never quite get round to it?
The decisions you make now will make a difference for your whole life… Gilbert claims one of the reasons we make bad decisions is we have a fundamental misconception of time. We think we have more of it than we actually do! So, if you answered yes to any of the questions above then now is the time to write yourself a letter (email actually!) and send it to your future self.
I invite you to make a decision now, to commit to that decision and send your future you a message. You can tell your future self how proud you are that you've written your first draft, finished the edit, written every day in your blog. Write yourself a cool letter that sets out your decision today to become a writer, how many words you're going to write every day, where you're going to write. Tell yourself how proud you are that you're now (in the future) a published author and you have your name on the cover of a book.
Send yourself some words of encouragement or inspiration. Or give yourself a quick kick in the pants! Make it emotional, visceral, exciting. You decide. Only you (and your future you) will ever see the email. You set the date your future self will receive the email, you can send it years into the future, or to a specific date. Do your future you a favour – decide now…
Write a letter to yourself… (click on this link or the image below).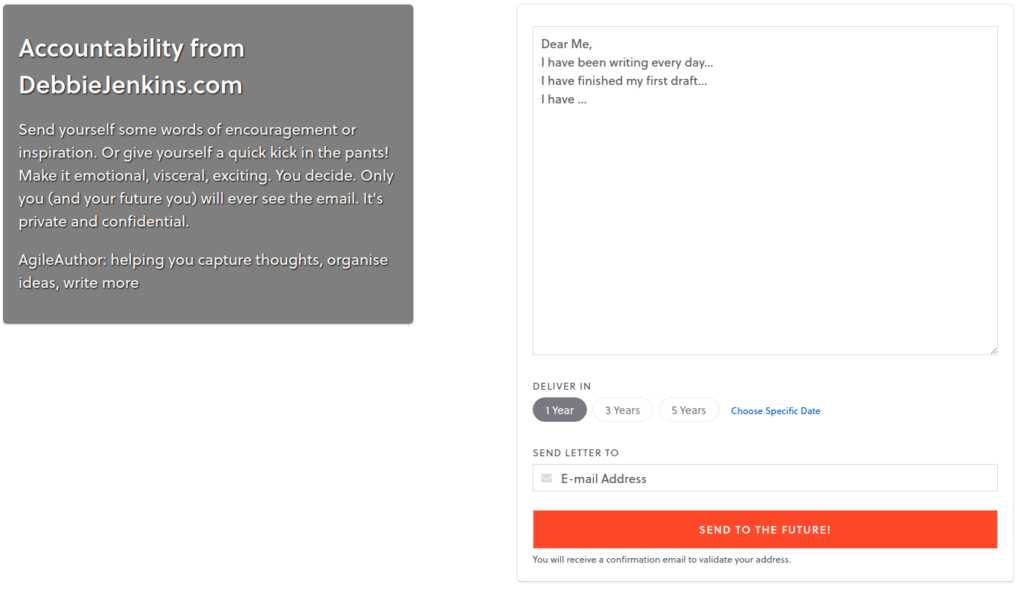 If you need help writing (keeping to a schedule, the technicalities, getting published, etc) then get in touch, let's have a chat…